OHS users will not be able to use the IRIS Connect platform app to review videos.
This is because the OHS submission process is unique for the program and not supported by the app. Therefore you will need to log in to your account via ohs.irisconnect.com from a web browser to review your recordings.
If you try and login to the platform app you will get an unauthorized error message.
This is the logo of the platform app that is not supported for OHS users.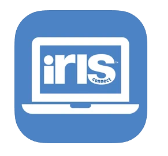 The IRIS Connect Record app is supported and required to be used for recording videos.